Google has developed a unique feature for the purpose of providing services like maintenance, troubleshooting & monitoring your site available in search result pages. And, this feature is so called Google search console. It helps you to observe and improve site performance in the way Google often see your site.
Following are the list of task which can be performed using Google search console tool:
• Troubleshoot various issues related to search, mobile usability and AMPs
• Get an alert regarding spam, indexing & other issues related to your website
• It fixes indexing problem and request re-indexing of updated content or a new one
• Gives information about sites which are linked up to your website
• Confirm that Google can search & crawl your website
• Monitors search traffic data for your site: site appearances, its position, number of clicks it gains, click through rate and various other search measures.
How Google search console is useful for small businesses?
We will discuss about its uses and effect for small businesses later in this article but first-of-all we will discuss who can use this tool. So, anyone having a website can use this tool, either beginner firm or a large scale firm is eligible to use this tool. Few examples are as follows:
• Web developers: For a web developer who creates mark-up &/or create codes, this tool will help them in resolving issues like structured data's errors and related one.
• Business owners: If you aren't using search console of your own or you don't find it necessary for you to be a pro. But, you should at least have some basic knowledge of it, how it helps in page optimization and also must be familiar with features provided by Google search.
• Marketers or SEO specialist: It plays a good role in optimizing and monitoring web site for an online marketer. To an online marketer, desire sales growth is more important. So, they need something like this which will evaluate their task and provide a suitable option to expand their business. Also, it makes the whole work lot easier for SEO specialist as they can easily handle the lots of work using this tool.
• Site Administration: As a site admin, it's your responsibility to monitor your site carefully. This tool resolves various issues like slow loading, server issues, site hack, malware & etc. It helps to protect your site from hacking and other harmful potential issues.
Now, coming back to the main point i.e. how small businesses can extract useful information from this tool & get benefited. So, in order to understand that let's start with it. Earlier it was "mobile-first index" and now we have the all new "search console".
As a small business owner, the updated search console is going to make your hefty work lot easier. We will discuss here about the updates in tool, their working steps and how they can play a vital role in growing business strategy in search market for small business owners. Whenever, your account is logged-in then the very first thing you will see is an Overview page; It contains "Performance report" which gives your insight report of last few months.
New Search Console:
Google has brought some changes in older version and brings the all new search console. They have redesigned this awesome stuffs in order to help you monitoring your task more seamlessly & helping Google in crawling your website more efficiently.
Overview page:
After signing to your account, the first thing you will see is an overview page. It gives an idea about how your website is performing on Google search results. You can visit here to see various metrics performance and counterparts. It also gives you an insight view regarding index coverage report, mobile usability and search information.
Other than this, if your property comes with enhancements like AMP for mobile usability or enhancements for search then you can also review these enhancing features here. Still, this version has some issues which need to be sort out.
Various issues are:
There are various issues found in this beta version of new search console; they are known to Google. They are still working to solve these issue other than that this tool is good to use.
• It doesn't support property page yet.
• Lack of compatibility for android apps.
• Some of the tools, report and functionality are not yet implemented in the new version.
• Mobile experience is still improving.

Shifting from older version to newer version of search console:
If you are new to this tool, then you need to give some time over metrics information. So, that you can understand differences between both the versions. But, if you were earlier using the older version search console then you will see the differences easily and will get the points that why should you use it. Given below are the changes which are made in the updated version.
Common differences:
• In older version, we can see the data of not more than 3 months while the newer version comes with the data compelling of 16 months.
• Can be feasible to work on mobile devices.
• It comes with all new improved tools and reports
• You can request for a re-crawling of page affected by crawling issues, all this becomes possible because of tracking flows which helps in monitoring and fixing bugs
• Complete information about specific page likewise index coverage, mobile usability, canonical URLs and many more.
Let us see some of the differences between both versions: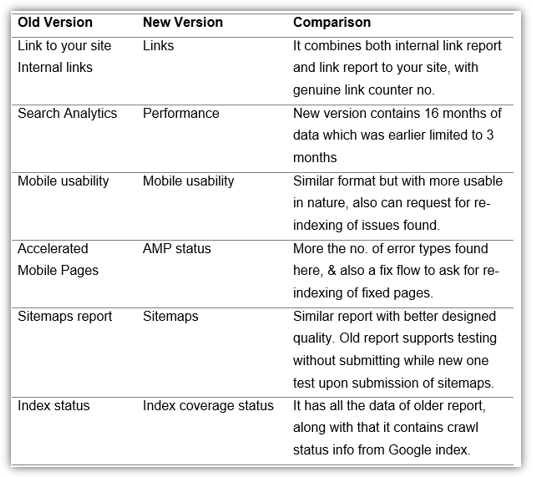 Apart from this, the following errors are not shown or are re-mapped in the new index coverage report:
Site errors are not shown in new search console. Various old error category and their replacement can be seen here.
URL errors: We will discuss here for desktop first, then we will look for mobile devices.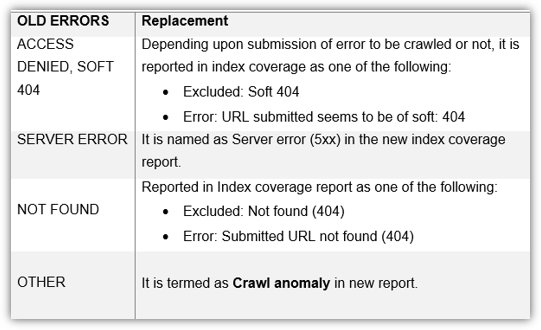 As we have discussed earlier there are still some features which aren't yet supported in the newer version. To use them you will have to use the older version for now. Some of the unsupported features are:
• Data highlighter tool
• Combining search console property with analytics one
• Blocked resources report
• Structured data report
• Disavow links
• Setting preferred domain
• Change of address tool
• Robots.txt tester
• Crawl data stats and few more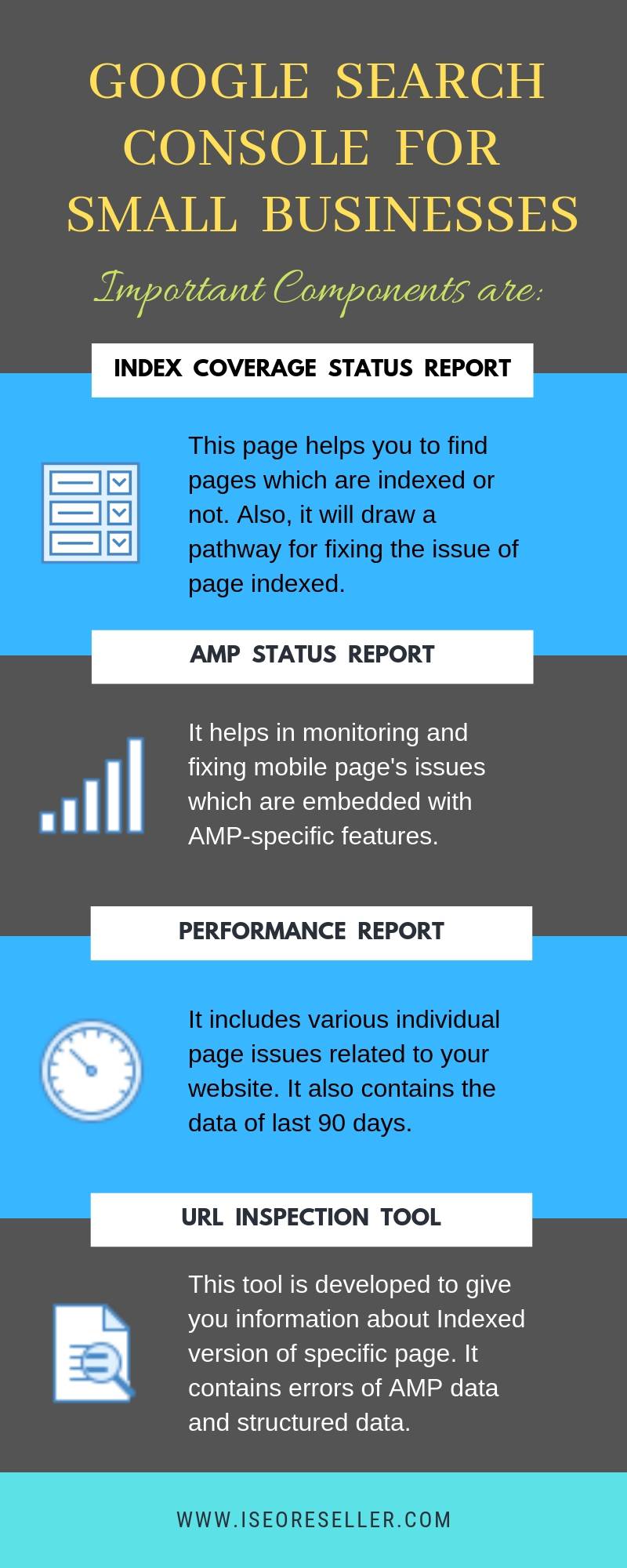 Index coverage status report:
This page helps you to find pages which are indexed or not and also it will draw a pathway for fixing this issues for page indexed. Here, each bar represents the total no. of URLs in a specific status (error, valid and so on) as known by Google.
AMP status report:
AMP pages which are not able to appear on Google search results due to some errors can be evaluated using AMP status report. It helps in monitoring and fixing these pages' issues which are embedded with AMP-specific features.
Various issues found by Google on your website can be seen through the "top level view". It is grouped together by issues. You can click on any issue to know about various details related with issue; including sample of affected page, fixing issues guidelines and overall procedure to notify Google about your fixed issues.
After performing above steps in AMP status report, if you want to see the summary report of your issues and fixes then you can visit the "Status page's Chart".
Performance report:
It includes various individual page issues related to your website. The newly designed search console containing this performance report is one of the most important section, it was named as "Search Analytics section" in previous version. It contains the data of last 90 days. If you face any problem or any error in individual pages will go into coverage report which we have discussed earlier.
URL Inspection tool:
This inspection tool is developed to give you information about Indexed version of specific page. It contains data of indexing issues, AMP errors and structured data errors.
Features:
• URL Indexing request: You can request for re-crawling of inspected URL by Google.
• Live URL inspection: It test a page to show whether it is able to be indexed or not.
• Indexed URL inspection: It fetches data of Google's indexed version for your page.
• See JavaScript output, loaded resources list and other data: You can view the page codes, list of resources and many more information by clicking on the more information link tab on page verdict card.
Conclusion:
Finally, we came to an end of this article on 'Google search console for small businesses'. As we have discussed earlier, it will help you in performing various task simultaneously and effectively. Whether, it is troubleshooting, fixing various index issues or purpose of re-crawling; you can perform all these task for better performance of your website.
Also, we came to know about its application in various fields and how it is useful for small businesses. The updated search console i.e. new search console can show data records of 16 months which was earlier limited to 3 months only. But, still there are some features which are unsupported in new version for which you will need to work on older version for those stuffs. The new version is much more reliable and easy to use and provide you great optimising features.