SEO is defined as Search Engine Optimization. It is the process of increasing traffic to your website in terms of quality and quantity through organic search engine results. It is a combination of technical and creative elements. It optimizes the website and improves the search engine rankings.
SEO is based upon a framework with certain rules and processes.
It can be divided into 2 stages i.e On-Site and Off-Site SEO. In On-Site SEO, there are certain rules that apply to site to make it search engine friendly and in Off-Site SEO promotion of website is done to rank it better in search results.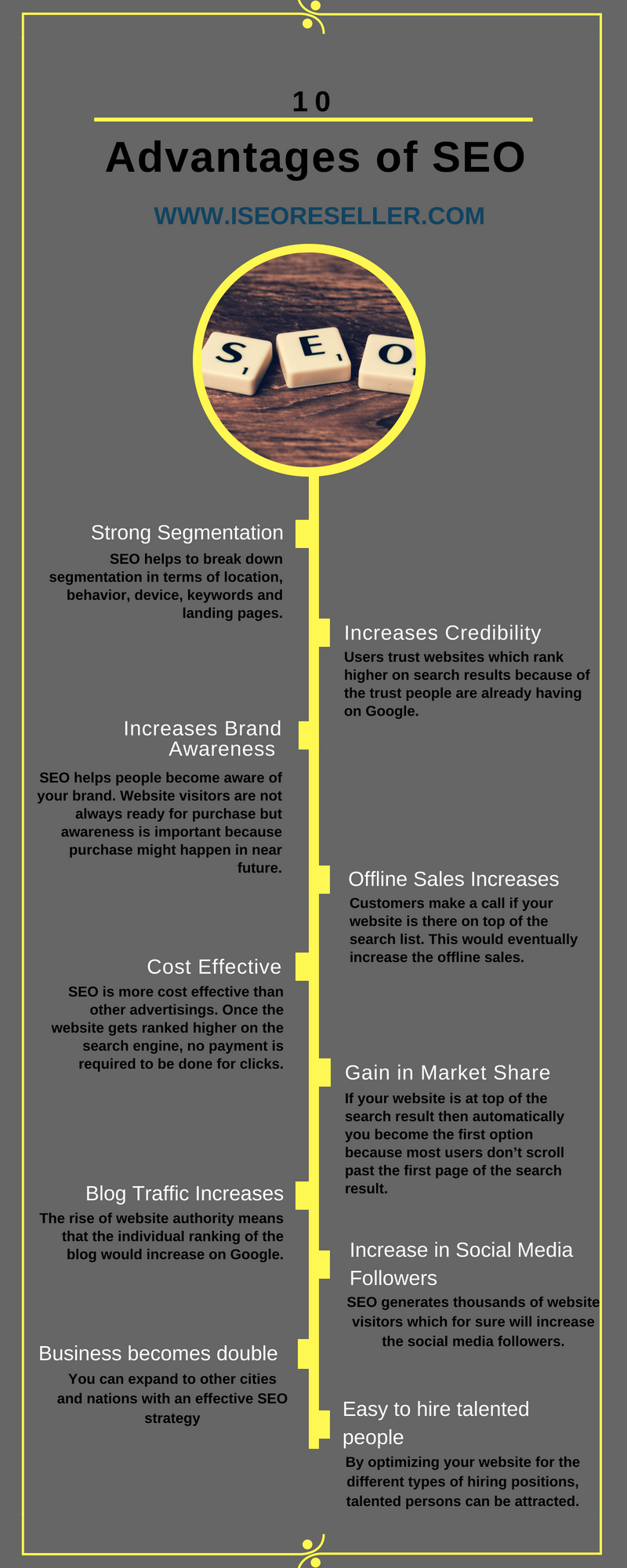 Importance of Search Engine Optimization:
The web traffic is majorly driven by search engines like Google, Yahoo and Bing. There are other types of traffic such as social media which might generate visits to your website but the primary method of navigation for most users are search engines. SEO controls the number of visitors who come to your website which impacts the generation of sales and the money being made from it online. Search Engine Optimization increase the credibility of your business. When a searcher enters a term, they look at the ranking of the website. The ranking acts as a vote of confidence in consumers. High search ranking increases credibility in the mind of customers. SEO increases the return on investment and rewards better than all types of offline advertisement.
Most people search online across various devices – desktop, mobile and tablet to find best products and services. One of the key part of marketing strategy for any business is to maintain a strong presence online. There are several advantages of using SEO. Some of them are mentioned below:
1. Strong Segmentation: SEO attracts those customers who are already seeking your products. It helps to break down segmentation in terms of location, behavior, device, keywords and landing pages.
2. Increases Credibility: Users trust websites which rank higher on search results because of the trust people are already having on Google. Most of the search engine clicks are on the first organic listing.
3. Increases Brand Awareness and Equity: SEO helps people become aware of your brand. Website visitors may not always be ready for purchase but awareness is important because purchase might happen in near future.
4. Offline Sales Increases: Customer these days are very reliant on online searches. Before visiting a store they try to search details about it online. They might actually make a call if your website is there on top of the search list. This would eventually increase the offline sales.
5. Cost Effective: SEO is more cost effective than other advertisings. Once the website gets ranked higher on the search engine, no payment is required to be done for clicks. The ad campaign can be paused and the good ranking of the website will drive more results.
6. Gain in Market Share: If your website is at top of the search result then automatically you become the first option because most users don't scroll past the first page of the search result.
7. Blog Traffic Increases: The rise of website authority means that the individual ranking of the blog would increase on Google. There would be a gain in the referral traffic on your website when you endorse your blog.
8. Increase in Social Media followers: When visitors research your website they will definitely click on your social media icons to follow you. SEO generates thousands of website visitors which for sure will increase the social media followers.
9. Business becomes double: SEO exposes you to the entire market. You can expand to other cities and nations with an effective SEO strategy. With SEO, the whole world becomes your market place.
10. Easy to hire talented people: People search on Google for good jobs. By optimizing your website for the different types of hiring positions, talented persons can be attracted. The recruiting fees and acquisition costs can be avoided through this.
The impact of SEO builds up slowly. Although SEO has a lot of advantages but there are certain things which lack like the impact of earlier work can still be felt afterwards and sales or leads cannot be quickly reduced. Some disadvantages of SEO are mentioned below:
1. Results of SEO takes Time: This drawback of SEO is probably the most noticeable one. The process of getting your contents indexed by search engines can take a lot of time which can be hours, days or even weeks.
2. Return of Investment is slow: Generating results in SEO takes time and therefore it takes a lot of time to achieve good return of investment. For small business this can be troublesome because they need substantial returns in short terms.
3. No Results Guaranteed: Most of search users don't scroll past the first page in search results. So, landing on the first page is very important. SEO gives no guarantee that you will land on the first page of the search results.
4. Full Control Not Provided: Google has full control. So, you have no control over the traffic that will be generated and the type of traffic you will get from the efforts that you have put in.
5. Chances of Penalization: Some SEO Companies break the rules to get you on the top of search list but that is only for a short term because Google catches and penalizes them. These companies are also known as black hats. There are other companies known as white hats which follow all the rules and give quality results through hard work. They might be a bit expensive but will be good for a longer term.
Impact of SEO on Business:
If you are having a business, then using SEO is a necessary thing in today's world. There has been tremendous increase in users surfing the internet. SEO gives you a good market reach and attracts more visitors. It helps you provide customer service as you know what problems customers are searching for and then you can easily prepare a proper solution for it. Customer loyalty changes from time to time and so does their buying behavior. To identify these changes, you should keep a watch on analytics, keywords, content and traffic. Customer needs and the way they are using your products and services can be known through the changes in traffic patterns and keywords. This information can then be used for creating new products and services for serving the customers better and increasing profit. Keywords used in SEO and SEM are the same words ideal customers use the most. So, this improves the relevancy of your offline marketing campaign. Customer service will also get better.
Tips and Tricks to make Search Engine Optimization for your website work in a better manner are mentioned below:
1. Include one primary keyword in page url: The best way of optimization is using one keyword phrase and include it in URL address. Use hyphens ( - ) and not underscores ( _ ) in URLs.
2. Website structure should be clear and up to date: Website should be structured in a correct manner. This makes it easy for search engine crawlers to find the pages and sub-pages and index them. There is a famous 'three clicks' rule which says that any information on the website should be available in not more than three clicks.
3. Keep URL address brief and relevant: A visitor should easily be able to tell about the website by the URL address. URL should be edited in such a way that it goes well with keyword optimization and user also understands it without any difficulty.
4. Create title tag for every page of your website: A title tag is that one liner in which you describe your online space. It will appear on SERP's, social media and browsers. It should be short and original.
5. Use Meta Description: A short paragraph displayed under the title tag. Meta description helps you in telling the details about your brand and the products that you offer.
6. Use ALT attributes for all the images: ALT attributes helps engine crawlers understand the meaning of image because search engines don't read images. Keyword phrases should be used to describe images on the webpage itself.
7. Mix different keywords together: There are mainly three types of keywords – generic, broad match and long tail. Each one will get you a bit of traffic. The best way is to mix these keywords and get traffic of different varieties. Generic Keywords are general terms. Broad Keywords provides a balance between traffic volume and relevance of the website. Long tail keywords are long phrases.
8. Include location in keywords: This helps in optimizing your website for local clients and local searches. For eg: if you offer SEO services in Houston, then its better you mention keyword phrases like " SEO services in Houston "
9. Publish rich keyword content: Content matters the most in SEO. Useful information should be given to users to make it rank higher in SERP's. Content should also be updated as often as possible.
10. Pay attention to correct grammar: It is very necessary that special attention should be given on faultless spelling. Misspellings and poor grammar can make your website ranking go down.
11. Content should be unique: Websites having unique and useful information will get ranked higher and gain more exposure in SERP's. Unique content will make your website stand out as it brings real value to the users.
12. Content should appeal the target audience: Random audience will visit your website and each and every content might not be useful for every user. Content should be tailored as per the needs of the customers.
13. Easy to read content: A clear structure should be made of each piece of content. Headlines and subheadings should be used in relevant sections of your copy.
14. Build a healthy back link for your profile: Link building strategies are an important part of SEO. Trusted Websites should be picked to receive backlink.
15. Avoid investing in sponsored links: Paying for a spammed or promotional article with a backlink to your website is not a good idea. It's better to focus on reaching to authoritative blogs and put across your extensive expertise on a subject as a blog post. Real value generates traffic, followers and backlinks.
16. Be active on social media: Social media don't have a direct impact on your rankings but having a good presence on the social media will build your reputation and increase traffic to your site.
17. Guest blog exchange: Guest blogging is a popular way of receiving backlinks. In this a blogger offers to write a post on another blog. This helps in receiving inbound link. Always remember that the blogs which you target should be relevant to your website. Avoid participating in generic blog exchange.
18. Keep a close check on competitors: Always keep looking for the keywords your competitors are optimizing their website for and check their rankings. The websites they appear on and content on which they are publishing their blog on should be observed closely.
Conclusion:
SEO is continuously changing and evolving. Mobile users are increasing day by day so SEO is getting more dependent on them. In the coming years, social media platforms might play a key role and can become an essential part of unearthing new content. Always keep in mind that whatever you are doing in SEO should be user friendly. Creativity is and will always be playing a major role in Search Engine Optimization. There is nothing in the world that can stop your brand from becoming popular and expansion of your business worldwide if you are thinking out of the box. So, don't hold back and be creative. Keep things simple at the same time and get ready for a fun ride with SEO.